McXtrace - Monte Carlo Xray Tracing, is a joint venture by
Funding from NABIIT, DSF and the above parties.
Our code is based on technology from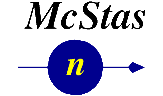 .
Code repository (shared with 'McStas') is located at github.com/McStasMcXtrace
For information on our progress, please subscribe to our user mailinglist..
---
McXtrace News
The latest McXtrace news.
Bug in PowderN.comp
A bug has been found in PowderN. It results in underestimating absorption substantially. A patch has been commited to the devlopment tree which may be downloaded from
PowderN.comp
. Thanks to the groups at University College London and Cranfield University for reporting this.
---
McXtrace 1.2 is released!
Finally McXtrace 1.2 is out. This release focuses on solidifying the models that exists and has greatly improved installation procedure. Packages are now bundled for easy installation. As of day one - packages are built for:
Debian class GNU/Linux systems
Rpm-based (e.g. RedHat) GNU/Linux systems
Windows systems (including 7, 8, and 8.1)
Mac OSX 10.10 Yosemite and 10.9 Maverics
Packages for further platforms can be built upon request - forthcoming is also a FreeBSD port. Please report any problems that you may experience to the
maintainer
. We will deal with all inconveniences ASAP.
Other new features in 1.2 include
Interface source components to SPECTRA, Simplex, and GENESIS 1.3.
Experimental Bending magnet and Wiggler components
Absorption feature added to Molecule_2state sample
Several more examples and test instruments
---
McCode goes github
The McCode-team is happy to announce that we have now moved to using git for version control and consequently also moved the code repository to GitHub. Effective immediately McXtrace (and McStas) code will live on
github.com/McStasMcXtrace
. To get a snapshot of the code you may issue the command: git clone git@github.com:McStasMcXtrace/McCode.git, provided you have a github account.
---
Perl related installation problem on windows
We have lately found that in a few rare cases, there is a problem with the perl tools installation process on Windows 7. If the extra ppds cannot be gathered by the installation script it might be caused by a permission issue in the perl site directory. If you encounter some problem along these lines please make sure that actually have
Full control
-permissions over the perl directory and its subdirectories. If that didnø't help pleasde donø't hesitate to use the mailing list (or indeed the facebook page)
Older News
---
McXtrace Manual
A manual is "under construction". A rough draft version is available here. From now on, we will upload nightly builds of the manuals here: nightlies.
A printed, bound version is planned using a Print-On-Demand scheme.
This is work in progress and may contain significant omissions and inaccuracies but for the interested it may be downloaded here:
The User manual documents the use of the McXtrace system whereas the Component manual details the inner workings of the models employed in the components, in other words the interaction physics between devices and beam.
---
McXtrace Code Development
The code development page has more info on code details
---
Art Gallery
We've established a gallery of plots which are beautiful/funnny or otherwise interesting at McXtraceArt. Please take a look and be inspired!
---
Steering Committee Meeting Minutes
You may now access the minutes of the steering committee meetings
---
Last Modified: Monday, 24-Apr-2017 21:45:17 CEST